Cleaning detergents
Alkaline degreasing products with detergent and protective action formulated for washing mechanical parts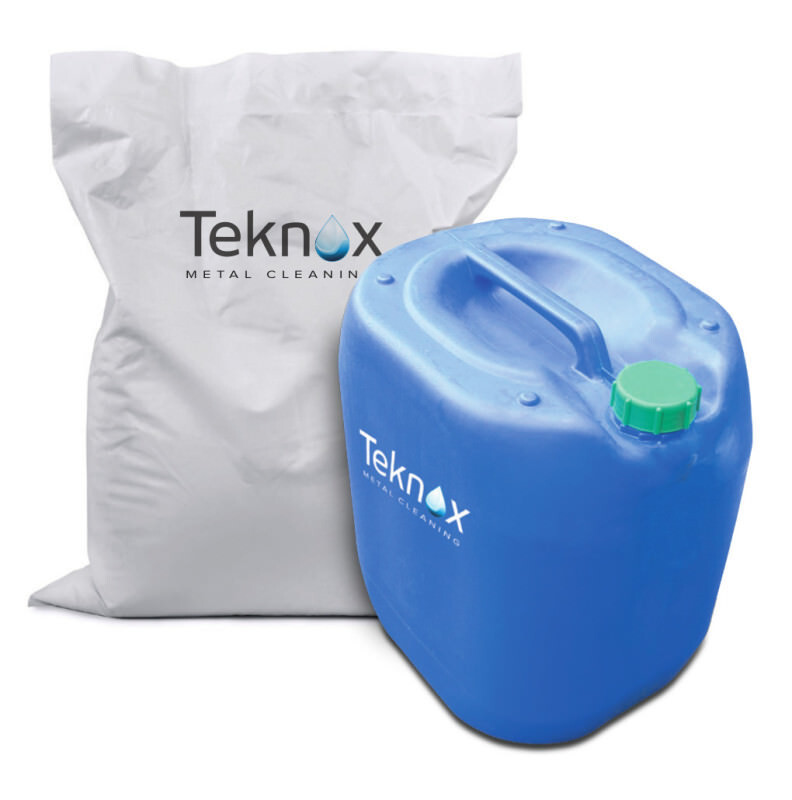 In order to face more and more different customers' requests, Teknox focuses its offer not only on the most suitable parts washer, but on the entire PROCESS of surface treatment.
Teknox has selected the best detergents thanks to numerous tests in the most various applications over 40 years of business. Our detergents are fully compliant with the parts washers manufactured both in terms of material compatibility (gaskets, tin-plates, seals, pumps) and of safety measures for operators.
These detergents have proved to be successful in hundreds of cases in the maintenance and manufacturing process.
---
| Name | Type | Packaging | PH | % | °C | Inox | Iron | Bronze | Copper | Brass | Aluminum |
| --- | --- | --- | --- | --- | --- | --- | --- | --- | --- | --- | --- |
| SAX | MAINTENANCE | | 12 | 1 ÷ 3 % | 40 ÷ 80°C | YES | YES | YES | YES | YES | YES* |
| CLEAN POWER | MAINTENANCE | | 11.5 | 2 ÷ 6 % | 40 ÷ 80°C | YES | YES | YES | YES | YES | YES |
| 545 | DEGREASING | | 9 | 3% | 20 ÷ 80°C | YES | YES | YES | YES | YES | YES |
| ADD-SGX | DEGREASING | | 7 | 1 ÷ 3 % | 40 ÷ 80°C | YES | YES | YES | YES | YES | YES |
| SG233A | DEGREASING | | 11.5 | 3% | 40 ÷ 80°C | YES | YES | YES | YES | YES | YES* |
| NEW 105 | DEGREASING | | 11.5 | 3% | 50 ÷ 80°C | YES | YES | YES | YES | YES | YES* |
| XL10 | DEGREASING | | 13 | 3% | 40 ÷ 80°C | YES | YES | NO | NO | NO | YES* |
| PROMETAL | PROTECTIVE | | 9 | 1% | 20 ÷ 80°C | NO | YES | NO | NO | NO | NO |
| PROTEK-IN | PROTECTIVE | | 9 | 1% | 20 ÷ 80°C | NO | YES | NO | NO | NO | NO |
| DROPAWAY | ADDITIVES | | 9 | 1% | 20 ÷ 80°C | YES | YES | YES | YES | YES | YES |
| ASH | ADDITIVES | | NA | 1% | 20 ÷ 80°C | YES | YES | YES | YES | YES | YES |
| DETERFOS | PRE-VERNICIATURA E SVERNICIATURA | | 2.5 | 1 ÷ 2 % | 40 ÷ 60°C | NO | YES | NO | NO | NO | NO |
| PAINTSTRIPPER A3 + B1 | PRE-VERNICIATURA E SVERNICIATURA | | 6 | 3 ÷ 12 % | 50 ÷ 80°C | NO | YES | NO | NO | NO | NO |
| CARK 211 | ULTRASOUND | | 10,5 | 3 ÷ 5 % | 50 ÷ 80°C | YES | YES | YES | YES | YES | YES |
| DECARB LIGHT | ULTRASOUND | | 12 | 3 ÷ 20 % | 50 ÷ 80°C | YES | YES | YES | YES | YES* | YES |
| DECARB ULTRA | ULTRASOUND | | 14 | 5 ÷ 20 % | 60 ÷ 80°C | YES | YES | YES | YES | NO | NO |
| PUL-T | PROTECTIVE | | 1.5 | 1 ÷ 5 % | 10 ÷ 80°C | YES | YES | NO | NO | NO | NO |
| PAINTSTRIPPER B1 | PRE-VERNICIATURA E SVERNICIATURA | | 6 | 1 ÷ 4 % | 50 ÷ 80°C | NO | YES | NO | NO | NO | NO |