Quality
High quality and safety standards for control and testing.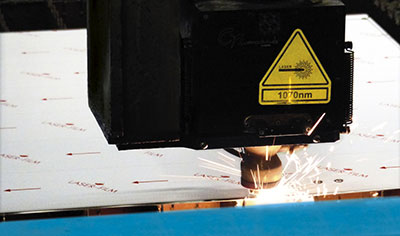 The sheet metal processing department produces most of the sheet metal products that are used to make the washing systems.
The company has its own facilities for laser cutting, punching, bending, welding and finishing the sheet metal products.
For some of its parts, the company relies on other businesses that are specialised in processing stainless steel.
The warehouse covers an area of approximately 1,000 square metres and handles approximately 12,000 product codes.
Both commercial components and the internally produced semi-finished products are stored in the warehouse.
The computerized warehouse management system enables the components to be accurately identified and stocks to be checked quickly. The quality control system for the semifinished products and the purchased materials ensures that there are no non-compliant items in storage.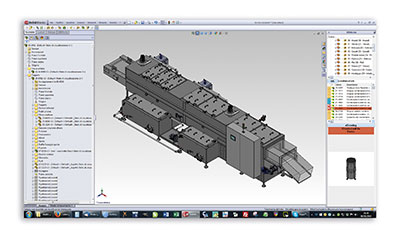 The assembly area that accounts for approximately 3,000 square metres is the largest in the production department. The highly qualified staff have several tasks: to assemble the components (electrical, mechanical and hydraulic) to the highest manufacturing standards, to test the systems and to answer requests for technical assistance.
The engineering department is responsible for the 3D design of all the systems, from the individual components up to the finished product.
This department also assesses customer requirements together with the cleaning and technical specifications.
The department is also responsible for programming the PLCs and drafting technical documentation such as production drawings, wiring, pneumatic and hydraulic diagrams and the operation and maintenance manuals.
The sales and administration department is responsible for national and international marketing and the administrative management of the company, customer support and logistics.