Parts washers catalog
K LINE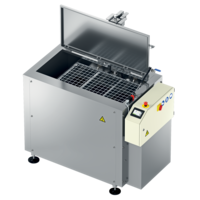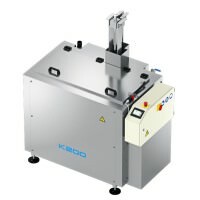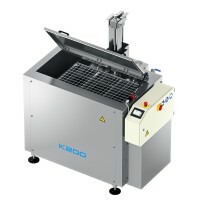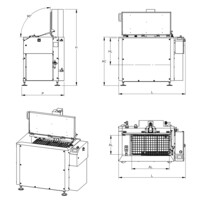 models
| | | | | |
| --- | --- | --- | --- | --- |
| | Useful washing sizes (cm) | ultrasonic power | washing tank | tank capacity |
| k100 | 64 x 34 x H34 | 1 kW | 100 lt | 180 lt |
| k200 | 88 x 47 x H38 | 2 kW | 200 lt | 250 lt |
| k300 | 100 x 55 x H45 | 3 kW | 300 lt | 520 lt |
| k500 | 120 x 65 x H55 | 4 kW | 500 lt | 700 lt |
SERIE K
Ultrasonic parts washers for heavy use
The ultrasonic washing system by teknox has been designed for a heavy and continuous use due to its high quality materials and to the most innovative technology.
The ultrasonic washing is carried out by a generator and plate transducers submerged in the liquid, placed in the front and back side.Standard machines include an automatic mobile stainless steel platform for high loading capacity, an additional tank for oil-trimming collection and a circulating pump.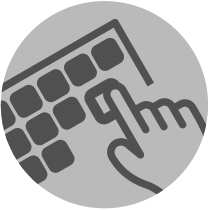 Controls
PLC with color Touch Screen
Industry 4.0 option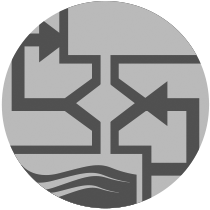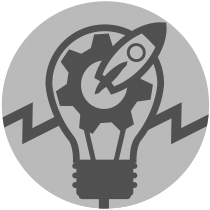 Areas of application
Car/motorcycle maintenance
Truck maintenance
Railway, naval, aeronautical maintenance
Mould washing
Mechanical engineering, chip removal, foundries, moulding
Surface treatment, pre-painting, paint stripping
Aeronautical / Space Industry
Electronic
Chemical, Pharmaceutical, Medical, Cosmetic, Food
Printing and colour industry
supply voltage
400V 3ph+N+PE
K-series parts washers help you to wash parts in immersion with ultrasonic equipment. The machines consist of a main tank with the detergent water-based solution. The platform where parts are placed is automatically immersed in the liquid and all the surface is entirely washed through the ultrasonic action. The automatic washing process is set by a touchscreen display and operator is free to work on other tasks. Once the cycle is finished the platform surfaces and operators can remove the cleaned and degreased parts. An additional tank is equipped for the oils removal through the action of a circulation pump. A filter enables then the liquid filtering to remove small solid residues.
What is included in each SERIE K
Hatch closure assisted with gas springs and fastening hook K
Thermal tank insulation with Aisi 430 stainless steel panels
Siemens® electric power parts
4" color touchscreen display for settings and programs
Aisi 304 stainless steel filter in pump intake
Structure and sheet metal in contact with liquid in Aisi 304 stainless steel
Minimum level switch
Safety limit switch on cover opening
Automatic lift and immersion platform
Adjustable feet
Recycle pump for filtration and removal of oil by overflow
Compressed air blowing gun
Weekly programming to start heating and deoiler (if installed)
IP65 electrical system, management via PLC touchscreen (DGT V4)
Heating of the liquid with stainless steel electric heating element
Internal welding bleaching
Stainless steel submersible ultrasound generator and transducers
Drain valves for emptying tanks
Manual water filling valve
What can be added as an accessory
Maximum liquid level control in tank 1 and filling solenoid valve
Pneumatic cover opening and closing with two-hand safety control unit
Automatic liquid detergent dispenser, installed in bath 1
Stainless steel cartridge filter (10/25/50 micron)
Device for remote connection and remote support for HMI Weintek
Kit for Industry 4. 0 for HMI Weintek
Kit for use with abrasive contaminants in the washing liquid
Stainless steel fittings and valves kit (for parts that are in contact with liquids)
PLC Siemens® S7 1200 - HMI touchscreen Weintek
Interface with the loading and unloading system (robot)
Heating with external heating elements, not in contact with the liquid
Machine equipped with wheels for handling
Tanks emptying pump (2)
Signal tower for indicating system status