Parts washers catalog
SIMPLEX BIG LINE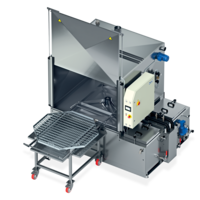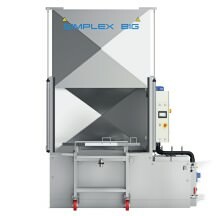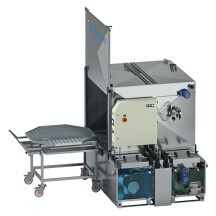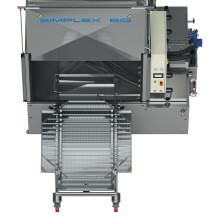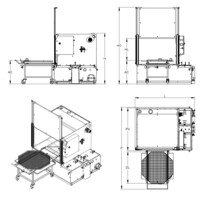 models
| | | | |
| --- | --- | --- | --- |
| | Washing capacity ( Ø x H ) | Basket load capacity | Tank |
| Simplex Big 2B 1000 | Ø 90 x H 70 cm | 600 Kg | 250 lt / 250 lt |
| Simplex Big 2B 1200 | Ø 110 x H 80 cm | 600 Kg | 300 lt / 300 lt |
| Simplex Big 2B 1400 | Ø 128 x H 90 cm | 600 Kg | 400 lt / 400 lt |
| Simplex Big 2B 1800 | Ø 165 x H 100 cm | 800Kg | 500 lt / 500 lt |
| Simplex Big 2B 2200 | Ø 200 x H100 cm | 800Kg | 750 lt / 750 lt |
| Simplex Big 2B 2600 | Ø 240 x H100 cm | 800Kg | 750 lt / 750 lt |
SIMPLEX BIG 2B
Parts washers with rotary basket and double tank with plc and touchscreen
Simplex Big performs the successful automatic washing of medium and large size mechanical parts.
Washing is carried out by the action of upper, lower and side nozzles. The slow rotation of the platform is ensured by a gear motor with a torque limiter. A PLC management enables numberless customisations thanks to a wide range of accessories.
In this configuration, parts washers have two separate tanks and carry out both washing and rinsing.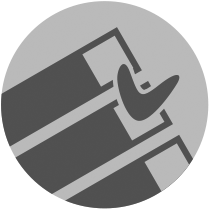 version
LT (heating up to 60° C)
HT (heating up to 80° C)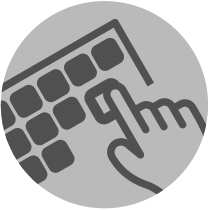 Controls
PLC with color Touch Screen
Industry 4.0 option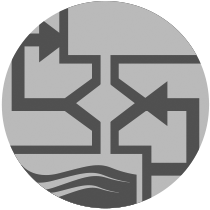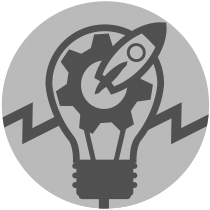 Areas of application
Truck maintenance
Railway, naval, aeronautical maintenance
Mechanical engineering, chip removal, foundries, moulding
Surface treatment, pre-painting, paint stripping
Printing and colour industry
supply voltage
400V 3PH+N+T 50 HZ (and more on demand)
Simplex Big 2B (two tanks) parts washers are precisely designed for washing and rinsing of very heavy medium and big sized parts.
Simplex Big parts washer is fitted with an external trolley where parts are located.
Operators push then the platform with parts inside the washing cabin, close the vertical door through a two-hand control system and start the working process.
A stainless steel pump carries out the washing through the liquid intake from the tank and sprays it over the parts while a gear motor slowly rotates the platform.
After parts washing and a short dripping, rinsing starts: during this phase a second pumps starts the rinsing liquid intake from the second tank and sprays it over the parts through specific pipes.
The parts washer can be entirely designed thanks to many accessories available and the whole working process is controlled by an industrial PLC.
On a touchscreen display and thanks to an intuitive software can be changed the operating parameters very easily, and checked the status of the installed devices as well as changed the 16 programs available.
Simplex Big parts washers are extremely solid and with a long life, and reduce operator hours, thus ensuring excellent results with very low operating costs.
A number of accessories are available: hot-air drying, high pressure pump, integrated manual washing, and many others.
What is included in each SIMPLEX BIG 2B
Pneumatic opening and closing of the lid with 2 safety hands control
Timed electric exhaustion of steam
Aisi 304 stainless steel external trolley with drip tray and wheels with safety brake
ISO pneumatic cylinders and "fall-proof" pneumatic safety valves
Thermal tank insulation with Aisi 430 stainless steel panels
Siemens® electric power parts
4" color touchscreen display for settings and programs
Box filter made up of 6 Aisi 304 SS vertical filters for pre-filtration of the liquid flowing back into the tank
Aisi 304 stainless steel filter in pump intake
Triple gasket for door (bottom, top and side) and gaskets on all tank lids
Structure and sheet metal in contact with liquid in Aisi 304 stainless steel
Minimum level switch
Gearmotor for basket rotation with torque limiter and centering sensor
Sludge drain hatch for simple tank cleaning
Reinforced pressed grating platform with galvanized steel raised outer edge
Aisi 304 stainless steel electric pump with special seals
Weekly programming to start heating and deoiler (if installed)
IP65 electrical system, management via PLC touchscreen (DGT V4)
Heating of the liquid with stainless steel electric heating element
Internal welding bleaching
Tanks accessible from the outside
Stainless steel bottom section load-bearing structure
Aisi 304 stainless steel washing pipelines with professional stainless steel flat nozzles
Drain valves for emptying tanks
Manual water filling valve
HT VERSION
Heat insulation with Aisi 430 stainless steel pa
What can be added as an accessory
Maximum liquid level control and filling solenoid valve
Compressed air blowing [B]
Hot air drying with resistor and air blade side channel blower [B]
Demineralizer with mixed resins and conductivity meter
Increased washing height
Centrifugal steam condenser
Additional basket platform
Stainless steel Aisi 304 additional external trolley
Automatic liquid detergent dispenser (available for Tank 1 / 2)
Disc oil separator with dedicated motorization
External pneumatic oil separator
Bag filter in stainless steel
Magnetic spark plug for bag filter for ferrite powder
Device for remote connection and remote support for HMI Weintek
Kit for Industry 4.0 for HMI Weintek
Manual washing and blowing with hoses and washing nozzle
80 bar manual washing and blowing with hoses and washing nozzle (both for LT or for HT available)
Kit for use with abrasive contaminants in the washing liquid
Stainless steel fittings and valves kit ( for parts that are in contact with liquids)
PLC Siemens® S7 1200 - HMI touchscreen Weintek
High pressure washing pump
High pressure rinsing pump
Circulating pump from tank 2 (most clean) to tank 1 (most contaminated)
Insulated stainless steel roller shutter front door
Platform and spider in stainless steel Aisi 304
External platform with hydraulic elevator
Stainless steel Aisi 304 retention tank with drip-catcher
Rinsing by water supply and direct drain outlet
Nebulized rinse from water mains, draining into the washing tank
Compressed air blowing with upper pipe adjustable in height [B]
Tank on the opposite side when compered to standard
Removable edges for grating in stainless steel, H 200 mm
Tanks emptying pump (2)
Signal tower for indicating system status
Loading/unloading external station (second platform included)

ACCESSORIES NOTES LEGEND
B: panels under the basket are mandatory (if in the price list for that model)
C: the useful washing height is reduced by 130 mm